A friend is traveling to Portland soon, and I told her I would compile a list of my favorite PDX places to eat and drink.  The list is hardly exhaustive, and it's mostly just places I either got drunk or ate breakfast while hungover.  I haven't visited a lot of these places in over a decade, so maybe don't hang your hat on any of this.  Leave comments.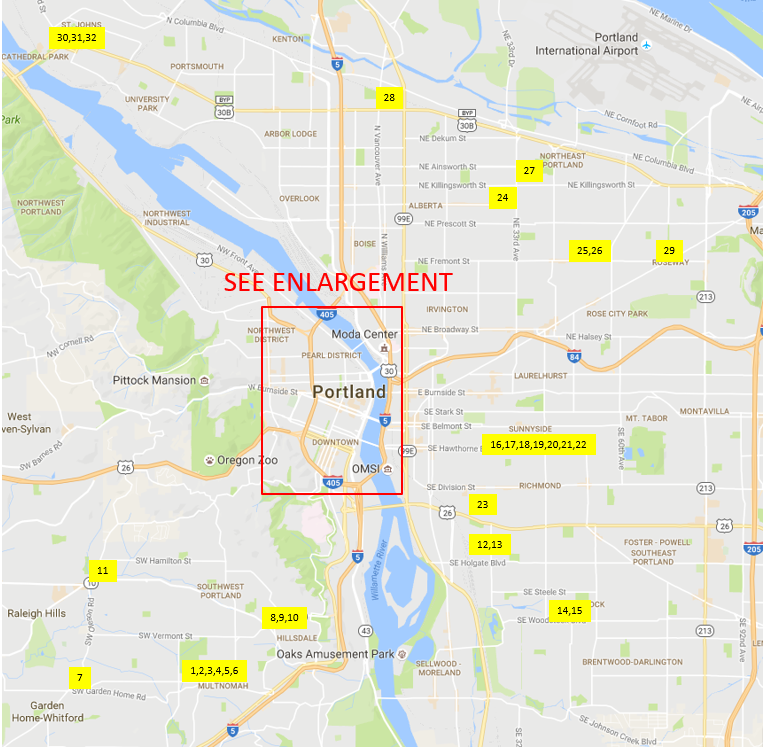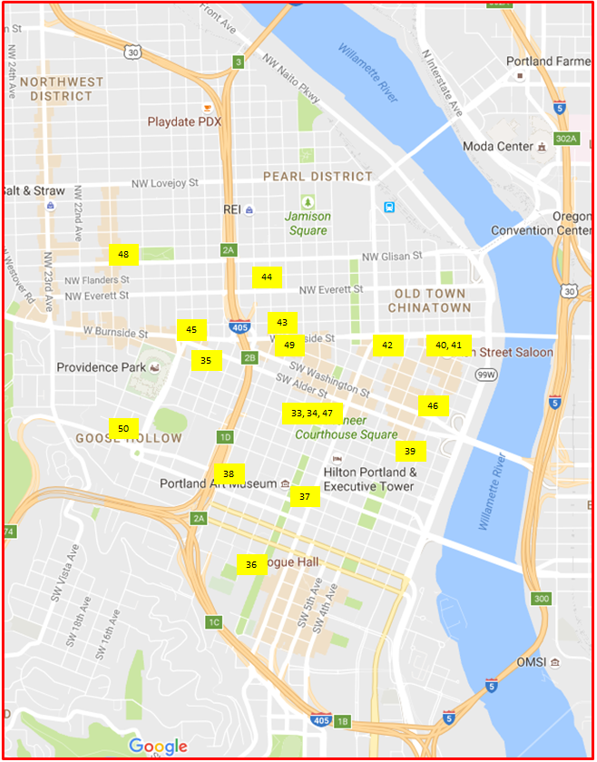 Southwest
1. Marco's – Fantastic breakfast or brunch spot. Excellent omelets and scrambles. Great for hangovers, too. 7910 SW 35th Ave.
2. The Ship – Utter dive. Pool table. 7827 SW 35th Ave.
3. Renner's – Pretty divey, but they serve food. I can't ever remember eating here, but I drank here a lot. 7819 SW Capitol Hwy
4. Lucky Labrador – Excellent pub. Great pizza, great beer, great atmosphere, dogs welcome. 7675 SW Capitol Hwy
5. O'Conner's – Decent pub and grub. The service is a little lacking…one time I was getting hammered here at 11am, and the waitress brought the check to me and my date BEFORE we asked for it.  I hate that. 7850 SW Capitol Hwy
6. Grand Central Bakery – There are a couple of these locations in town. Excellent baked goods. Give it a try. 3425 SW Multnomah Blvd.
7. Old Market – In Garden home, on the fringes of Portland. Good food, decent beers. Try it if you're out this way. 6959 SW Multnomah Blvd.
8. City Thai – Decent Thai spot. 6341 SW Capitol Hwy
9. McMenamins Hillsdale – There are a bunch of McMenamins throughout PDX. This one isn't particularly special, but it's in a good location, with lots of little shops nearby in Hillsdale. Good food, good beers. Try the Terminator Stout. 1505 SW Sunset Blvd.
10. Verde Cocina – Stopped in here once for lunch/to take a giant dump. Excellent little coffee shop/Mexican fusion. Just keep in mind it's a small place and the bathroom is VERY close to where people are preparing/eating food. 6446 SW Capitol Hwy.
11. Dublin Pub – Great Irish Pub. Occasional rock and reggae shows. 6821 SW Beaverton Hillsdale Hwy.
Southeast
12. Pub At The End of The Universe – Awesome atmosphere. Pool and always lots of good beers on tap. Excellent juke box. Near Reed College, but definitely NOT a typical college bar. One of my favorites. 4107 SE 28th
13. Ship Ahoy – Dive. Fun to sit on the street and people watch. 2889 SE Gladstone
14. Tom-Yum Thai – Great Thai place. Try the Pad Thai or Pineapple Rice. They also have a very small bar, and I think I got a beer here once while waiting for my take-out. 4309 SE Woodstock Blvd.
15. Laughing Planet Café – Excellent burritos. Used to eat here a LOT. There are a few locations in PDX, as I remember. 4110 SE Woodstock Blvd.
16. Spaceroom Lounge – Great for cocktails. Awesome, spacey atmosphere. Good for late nights when you want to fade into oblivion. 4800 SE Hawthorne Blvd.
17. Bar of The Gods – Right across the street from Spaceroom. Lots of pool, air hockey. Fun, loud atmosphere. 4801 SE Hawthorne Blvd.
18. Por Que No? – Great, hip, Mexican food. Excellent tacos. Great margaritas. Always a line. It think this place is a must for touristy types. 4635 SE Hawthorne Blvd.
19. Zack's Shack – HOT DOGS. Open very late. They have a few beers too. All manner of dogs: meat, veggie, vegan. One of my absolute favorite places to end an evening. 4611 SE Hawthorne Blvd.
20. Hawthorne Theater – Great live music. Check out a show while you're in the area. Full bar. 1507 SE 39th
21. Baghdad Theatre – Another McMenamins pub, attached to a movie theater. You can drink and eat while you watch a movie. They often play older, classic films. It's awesome. 3702 SE Hawthorne Blvd.
22. Cup and Saucer Café – Great breakfast place. 3566 SE Hawthorne Blvd.
23. Dots – Super hip, great martinis. Drank here pretty often for a while. A little too cool for me, though. 2521 SE Clinton St.
Northeast
24. Vita Café – Vegan/Vegetarian. Really good. Good for breakfast, lunch. Great service. 3023 NE Alberta St.
25. bottles – Great to fill a growler. Very unique beer selection. Nice staff. 5015 NE Fremont St.
26. Peter's Bar and Grill – Good sports bar if you're in the mood. 5701 NE Fremont St.
27. McMenamins Kennedy School – If you're only going to go to only one McMenamins location in Portland, make it the Kennedy School. They turned an old elementary school into a giant pub. It's got two or three different bars inside, a cigar smoking courtyard, and you can even rent rooms out to stay the night. It's pretty amazing. Definitely a must. 5736 NE 33rd Ave.
28. Royale Brewing – A FALLS SOCIETY FRIEND started this brewery. The brewery has a tasting room, and the beers are fantastic. Great red ale. 55 NE Farragut St. #6
29. Blue Fin – Amazing Vietnamese food. Sushi, too. Weird atmosphere, but great service, great food, and drinks. 7317 NE Sandy Blvd.
North Portland
30. The Garrison – The pub that the guys from Royale Brewing started. 8773 North Lombard St.
31. Leisure Public House – Solid pub. Great bartenders. 8002 N Lombard St.
32. Slim's – Bar and food. Good for breakfast if you accidentally wake up in North Portland. 8635 N Lombard St.
Downtown/Northwest
33. Virginia Café – Nothing too special, but solid food, solid eats. This was pretty much my regular tavern for years in Portland. Right across the street from the Central Library. 820 SW 10th Ave.
34. Momo's – Great bar. Hidden courtyard in the back is fantastic. 725 SW 10th Ave.
35. Gilda's Italian – On the first floor of a building called The Commodore. This used to be a crummy breakfast joint when I lived right across the street, but they've classed it up. Worth a try. 1601 SW Morrison St.
36. Rogue Hall – There's a couple Rogue locations in Portland. The original Rogue Brewery is in my hometown of Newport, so I always make sure to pay homage to one of their great pubs. Some of the best beer in the world. Try the Dead Guy, Shakespeare Stout, and Hazelnut Brown. Excellent food, too. 1717 SW Park Ave.
37. Higgins – The O.G. upscale downtown spot. Great food, beer, wine. 1239 SW Broadway
38. Thai Chili Jam – Excellent Thai. Hot as you want it. 1243 SW Jefferson St.
39. Yamhill Pub – The dive of dives. One of the worst places on the planet. This place eats souls. But, you know, sometimes that's just what the doctor ordered. 223 SW Yamhill St.
40. Shanghai Tunnel – A really cool bar. The downstairs occupies one of Portland's old tunnels from the 1800s. Worth checking out. Kinda divey. There's a ton of bars in a two block radius, here. Voodoo Doughnuts is right around the corner. 211 SW Ankeny St.
41. Ash Street Saloon – Near Shanghai Tunnel, great live music, pretty standard bar, good courtyard atmosphere. 225 SW Ash St.
…actually, now that I think about it, Ash Street has a pretty shitty courtyard, but a courtyard is a courtyard.
42. Portland City Grill – On the 30th floor of the US Bancorp Tower (or "Big Pink" to the locals). Amazing view of the city. They have a piano man some nights, and a great happy hour menu. 111 5th Ave.
43. Henry's 12th St. Tavern – A big eatery and pub. Excellent beers, good food, always very busy. Not a MUST, but it's an easy choice you don't have to think about.  Plus, this one time, I totally made out with a Canadian girl there.  Wait a minute…I might be thinking about The Deschutes Brewery, right around the corner…either way, check out Henry's. 10 NW 12th Ave.
44. Rogue Distillery – The other downtown Rogue location. 1339 NW Flanders St.
45. Marathon Taverna – A solid sports bar. Usually very busy. They make strong drinks. It can get kinda frat boy-ish, but overall pretty decent. 1735 W Burnside St.
46. Mother's Bistro & Bar – THE downtown breakfast joint. Always a line. Very good. 212 SW Start St.
47. India House – Great Indian food. 1038 SW Morrison St.
48. McMenamins Blue Moon – Another McMenamins. Worth it if you're in NW. 432 NW 21st Ave.
49. The Roxy – 24 hour diner. Some of my first memories in Portland were made here. Awesome atmosphere, great way to end an evening. Try the Slack Snack. 1121 SW Stark St.
50. Goose Hollow Inn – Great Reubens, great bar. I lived near here when I was 18, and rarely went back after I was 21, but it's got history and it's a fantastic little spot. 1927 SW Jefferson St.