Goon, greetings from Ho Chi Minh City.
It is charming here. It's a little run down, but it's also new and sparkling. It's a bit on the dangerous side, but it's actually quite safe. It's cheap as fuck, but it can drain your bank account. It is a land of wonderful contradiction peppered with palm trees.
Anyway, writing is one of the only things that makes me feel good these days. I'm not interested in women. In fact, the more I observe the creatures from outside my wanting-to-fuck-lens, the more turned off I get.  Not just from women, but from everyone.
A few days ago I was crashing with a Malaysian man named Musa [not his real name] and his family that I had never met prior to my arrival four days ago. I stayed with, him, his wife, his three kids (ages four, two, and baby), and his wife's two sisters. We were all sharing a two bedroom condo in a fancy high-rise…Well, Vietnam fancy, not Miami fancy.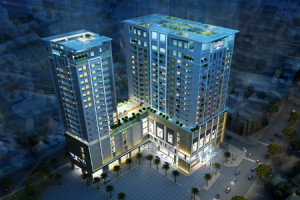 I spent most of my transition period getting drunk on the seventh floor by pool with Musa, meeting one off random important Vietnamese people, a doctor here, a customs official there.  Once the guy who owns the entire building.  Between the visits I would sit with his wife and kids to chill and shoot the shit.
Musa is an interesting fellow. Muslim and raised in Malaysia, he is an engineer that has been unemployed per his wife's jealous insistence, for the last five years. His wife's family is very seriously connected to the Vietnamese government. This is the type of connection that could help you get out of a jam, start a business, and grease the right palms. But they are not a family that you want to cross. To tell you the truth, it kind of freaks me out because I have a way of inadvertently burning people in my seemingly endless quest for emotional stability.
Let me be clear though: These are some of the most kind, generous people you will ever meet. They housed, fed, and watered me after knowing me for just one afternoon. I was practically all but moved in and offered a job managing a government construction project outside of Hanoi within one week. Muse's wife was so certain that I would take the offer that it made me a bit uncomfortable.
Which is how I found myself in a luxuriously sleazy seven dollar a night hotel room.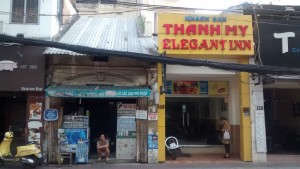 The other night I caught a forty five minute local bus to the tourist district because I was in need of a little excitement. I had dinner with my friend, Sam [not his real name] from Portland, at a BBQ street food joint.  It had only a few tables on a crazy, small, but busy street—but it was some of the best BBQ grilled up in a dirty alley that you will ever eat. Sam is an entrepreneur who is also on a bit of a spiritual journey. We always have fulfilling metaphysical conversations and I must admit that he recharges my batteries a little bit.
After dinner we went to a fancy scotch and cigar bar and I picked his brain about starting a business back in Portland.  There was a certain irony that we did this sipping on fine Japanese scotch that during happy hour ran around $6. When finished we were joined by four Viet-girls and a Spaniard. The girls were all nicely dressed.  One was actually from San Jose on her last night in Saigon, and she was looking to celebrate.
The scent of scotch still in my nose I suggested we moved on.  San Jose knew the right place.
The the scotch bar we all went to the famous long standing club called Apocalypse Now where San Jose had a bottle of Hennessy waiting for her. It turns out that her brother-in-law owns the place, and that set the stage for a wild once-in-a-lifetime type of night.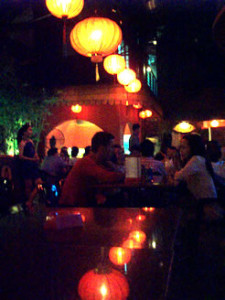 In honesty though, I've been wrestling with myself a lot lately. I'm back off the wagon, I'm an alcoholic with no job and a what-the-fuck-happened kick. My greatest source of happiness right now is the fact that I can fart again without shitting my pants. And, knowing this in that bar, in true Rogue fashion, I took a loop around the club, hopped in an Uber that was just arriving to drop someone off, and left without telling anyone.
The next morning I woke up with a pretty stiff neck from carrying my bags. In fact I was in pretty rough shape from how I'd been living the last two months. Sam who was glowing upon meeting me for food, told me upon our reunion that I looked like shit. It was the kind of cordial way we spoke of such things.
I decided I better get a massage. Now, one thing to know about the tourist area of Ho Chi Minh, is that there are massages parlors every ten feet with some lady handing out fliers and explaining their specials. But this is not a real massage, and if on the off-chance it is, it's going to be a shitty formality for solicitation.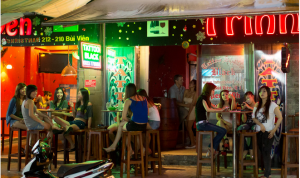 I decided to give it a go.  I chose a lady in her late twenties that spoke decent English.  Though attractive in her own right, she seemed different than the usual lot you see handing out fliers.  The massage for all intents and purposes, seemed like it was going to be legit.
We got to know each other a bit as I paid my five dollars in advance.  I asked the usual, "Where are you from?" and, "How long have you been in Vietnam?" sort of questions. She asked me to get undressed and to leave my underwear on. This was a good sign that I was going to get to the heart of the pain that I was feeling. The pain was gone in the end, but not from the massage.
I probably got in about twenty minutes of the hour long message before the proposition came.  I knew it was coming the moment she touched me. You can always tell from the hand's pressure. It's too light, not methodical. The message, the touch, is only a pretense. But, though little disappointed, I decided to go with it.  It still felt nice having actual human contact. And she seemed sweet. And different in a familiar way.
The contact stopped and her phone appeared in my tired vision. All I had wanted was a massage. But she had other ideas, and it was twelve minutes to midnight. We exchanged a few more messages, while I politely declined her offer. In doing so, I told her that what I really needed was to be loved.
The human interaction was close, intimate for me in these days in the jungle. I hugged her, which she resisted, unsure of what I wanted. I told her that I didn't want sex but that I would give her a nice tip as I motioned for her to lay next to me. She had no idea what was going on, though levity filled the room. Laughing, she tried to pull off my underwear while I wrestled to keep them on. "Why you not be nice to him!" She repeated while trying to get her hand in my pants. What followed was a delightful five minute exchange of me swatting away her hand and her swatting away my hugs. It was as beautiful a contradiction as this entire wonderful country is: A game of tennis between two extremes, none healthier than the other.
When it became clear that this trial of wills would go no further, I held her hand and I told her, I don't want a special massage. Looking her in the eyes and with my hands on her shoulders, I asked her, "When was the last time you got a massage?"
"A long time," She replied with a sad innocence, "A long time."
I had an actual genuine moment on this foreign street filled with temptation, tourism, and hidden despair.
As I left, I gave her a final hug, which she now only halfway resisted. I tipped her five dollars and told her that I hoped to see her again. It was a weird but oddly gratifying experience, but I do believe that I showed her something new and different.
The hug, the interaction with me instead of my money was important to me.  Somewhere along this journey, I had fallen out of love with myself and I knew that I wasn't living, but was dying a slow death.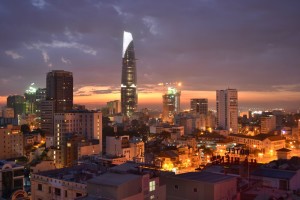 Earlier this afternoon I had gone to get coffee, and I had convinced myself that I was being overcharged. I got aggressive and was rude to the owner, the woman at the counter, as I stormed out. Later, while preparing to leave for the airport, I realized that my key to my locker at the hostel was missing. This was the locker where I kept my passport.
I knew exactly where it was. This is how the universe works. I tried asking the cleaning woman if she had found it. No dice. I asked the Dutch guy who ran the hostel if he had any bolt cutters.  No good. I wanted to do anything but to have to face my own ugliness. But inside I knew that it had to be done.
I headed back to the coffee shop with a certain confidence in the lesson that I was no doubt being taught. It had been five hours since I had yelled at the owner, and there my keys sat upon the table where I had made a scene. The woman working smiled and pointed to my key.
Now, this is very important: I was filled with something powerful in that moment. She could have disregarded that key just as I had disregarded her humanity.  But she did not. I tried not to face that shame and gratitude that I had.  I tried to make it a financial interaction, to give her a couple of bucks. But she refused. I insisted, and she refused again. I bowed, humbled, as I left.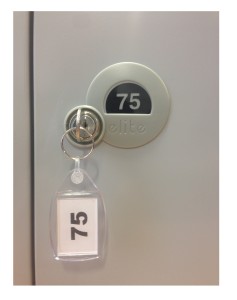 Today I'm super hungover. Or maybe I'm still drunk. I won't know which until later this afternoon when I'm either throwing up or feeling somewhat less like a dirty wet sock that fell behind the washing machine.
I've got black beans cooking on the stove, no shirt on, sunglasses, and it's seven am. I slept on a bean bag chair in my friend's spacious unfurnished two bedroom apartment that he rents for ₫170 dollars a month. I couldn't decide whether this place was better suited for a meth house or porno shoot, but now that I think about it, a porno about a meth house feels about right.
I still don't fully understand everything I'm going through, or the point of this journey. I do know one thing. I've been selling myself short. And it's time to get out of my head and back into my heart. It's time to raise the frequency.
This is Vietnam. And I fucking love it.